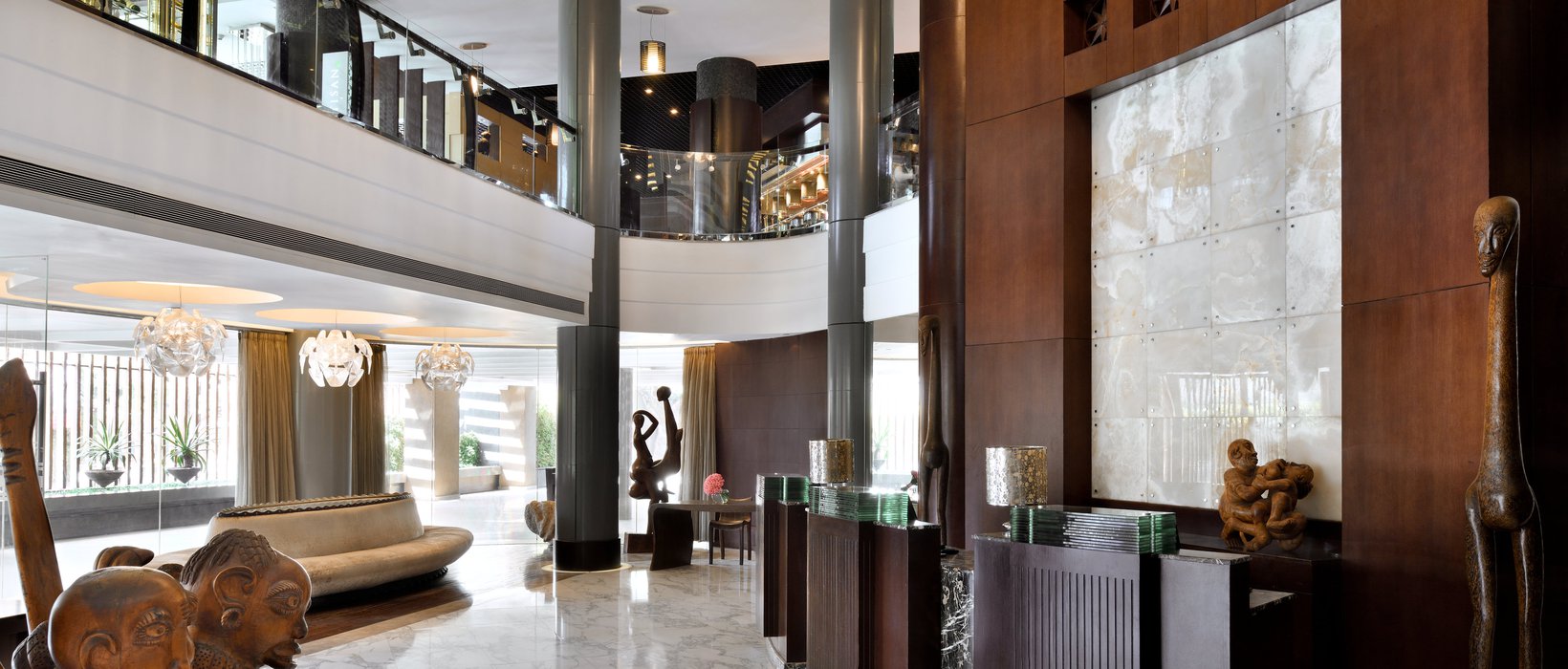 HERD OF ONE PROGRAM
Herd of One is an African Elephant Conservation awareness and fundraising initiative by Sankara Nairobi, Autograph Collection and WWF -Kenya.
Through the Herd Of One program our guests can donate a dollar which goes towards the elephant conservation campaign in the Mara.
We appeal to you as our guest to be one with the elephants by donating and being aware of the conservation efforts to protect our elephants and become a part of the herd.
WWF Kenya - is an affiliate of the World Wide Fund for Nature conservation organisations with an active network in over 100 countries.
Why does it Matter? - In 1973, there were 165,000 African elephants in the Kenyan wild. Today, the population is as low as 35,000 due to poaching, habitat and migratory corridors loss.
For more information please speak to our Guest Relations Team.
Telephone: +254 20 420 8000 Website: https://www.wwfkenya.org/our_campaigns_/herd_of_one/
Sankara Nairobi awarded "Best Luxury Hotel" in the region by World Luxury Hotel Awards
Sankara Nairobi is proud to announce that it has received the 'Best Luxury Hotel - East Africa' award in the recently concluded World Luxury Hotel Awards 2016. The World Luxury Hotel Awards is a renown global organisation providing luxury hotels with recognition for their world class facilities and service excellence provided to guests. 
Sankara Nairobi was recognised for its excellence and stubborn persistence in delivering outstanding and exceptional personalised service in addition to its prime business location in Westlands, Nairobi,  top-class dining and meeting facilities, unique room design and overall culture, style and design of the hotel. 
---
Sankara Nairobi renews ISO 22000:2005 - Food Safety Management Accreditation
The safety of guests is one of Sankara Nairobi's top concerns. We are therefore proud to announce that the hotel has implemented and maintained ISO 22000:2005 - Food Safety Management accreditation for its excellence in food safety management.
The acknowledgement certifies that Sankara Nairobi demonstrates commitment to internationally consistent standards in food safety hazards. Being ISO 22000 : 2005 certified, Sankara Nairobi can ensure its customers that the correct food management practices are being undertaken providing assurance about quality, safety and reliability.
ISO 22000:2005 - Food Safety Management accreditation is just one of many accreditations the hotel has attained in order to ensure the safety and comfort of its guests. Earlier this year, the Sankara Nairobi received Safehotels Executive Level certification for its security practices. 
---
Sankara Nairobi launches "A Narrow Band of Wave Lengths" Art Exhibition
Continuing its revolving art exhibitions in collaboration with one of Nairobi's leading art galleries One Off Contemporary Art Gallery, Sankara Nairobi introduces "A Narrow Band of Wave Lengths" exhibition. Curated by Carol Lees around the theme of Monochromes, the newest exhibition brings together artists from diverse origins who work with black and white in different ways and who sculpt the same wooden material into immensely different pieces of art.
Thom Ogonga exhibits bold woodcut prints and Farrah Akbarali works meticulously with ink on paper. To compliment the two dimensional works, three sculptors has been chosen; Kenyan veteran sculptor, Morris Foit needs little introduction and already has many works in the Sankara Nairobi collection. Charles Kamya hails from Uganda and whilst he is a committed and well established artist, he has not been shown extensively in Kenya. The work of 'Baldy' Osborne is one of Kenya's best kept secrets. The sophistication of this sculptor's finish is indicative of a master craftsman in his chosen field.
This magnificent exhibition is on display and on sale at the hotel's 2nd floor atrium until January 2017. For more information about the exhibition, artists and artworks kindly contact boutique@sankara.com or call +254 20 420 8096.
---
Sankara Nairobi introduces Sankara Signature Sleep Experience
Sleeping well and feeling rejuvenated is in the heart of Sankara experience. In a mission to provide an elevated sleep standard and the city's best sleep experience Sankara Nairobi introduces Sankara Signature Sleep Experience featuring new mattresses and sleep enhancing amenities.
As the bed is arguably the most important element of a hotel room and focal point for restorative sleep, Sankara Nairobi has recently fitted all their rooms with bespoke Serta Suite Dreams mattresses. These mattresses with a posturised centre and advanced comfort quilt construction have been engineered to help eliminate many common sleep problems such as tossing and turning, lack of support and uncomfortable sleep temperature. To add an extra layer of luxury the hotel has also upgraded all mattress toppers to plush Hanse down toppers which adjust to however you sleep and leave the guest feeling pampered and refreshed.
Recognising that a pillow often makes the difference between a good night's sleep and, in worst case, no sleep at all, Sankara Nairobi also offers a comprehensive pillow menu allowing guests to choose from ten different types of pillows. The menu ranges from anti-aging, anti-allergic and thermal options to aromatherapy and neck supporting alternatives making it easy for guests to find a pillow to suite their personal preferences.
To help guests unwind and sleep more soundly Sankara Signature Sleep Experience goes beyond the bed. If having trouble falling asleep guests can ask for new chamomile scented aromatherapy mini pillows. Chamomile's sedative and relaxing properties will help guests to relieve stress and prepare for sleep. Sleep masks, hot water bottles and extra blankets area also only a phone call away.
The design of the Sankara guestrooms further supports the new signature sleep standard with in-room temperature controls, double-walled windows for soundproofing, blackout curtains and high-quality beddings. The hotel's nightly turndown service with a local surprise adds the final touch for the perfect night's sleep.
To experience the luxurious Signature Sleep Experience, please contact stay@sankara.com.
---
Sankara Nairobi renews Safehotels Executive level certification
Sankara Nairobi is proud to announce that it has completed the second successful Safehotels audit achieving the highest Executive level of accreditation for its excellence in safety and crisis management. The certification confirms that Sankara Nairobi focuses on key elements of guest security and that it has appropriate plans in place if ever there is an accident or any kind of emergency.
"Security and our obligation to the safety of our guests and staff are of primary importance to us. With Safehotels certification as an international verification of our standards, potential guests and clients have a proven reassurance of our performance in the crucial area" says Mark French, General Manager at Sankara Nairobi.
Andy Williams of Safehotels asserts, "As the leading business hotel in Nairobi, Sankara Nairobi understands the value, importance and expectation guests place on safety and security. In meeting this expectation, Sankara Nairobi is again awarded Safehotels Executive Certification, the first hotel in Africa to do so."
To be awarded Safehotels Executive Certification a hotel must meet over 200 independently assessed safety and security international best practice standards, then maintain them year on year. "To achieve the highest level of standard takes dedication, resource, attention to detail and extra commitment from the hotel management, employees and owners; attributes which Sankara Nairobi clearly both demonstrates and celebrates with their Executive Certification" Willliams continues.
About Safehotels
Safehotels is a global security consultancy which aims at setting global safety standards for the hospitality industry. It is the founder of Global Hotel Security Standard © which consists of over 200 safety and security elements. Hotels which adhere to the strict standards within e.g. fire training, first-aid, crisis management and security equipment & procedures receive Safehotels Certifications.
Due to Safehotels certificates guests can easily recognise hotels which prioritise safety and security issues. The certification is also a trust symbol for organisations and companies conducting research on hotels safety and security policies.